Horse as a Guide to Humanity book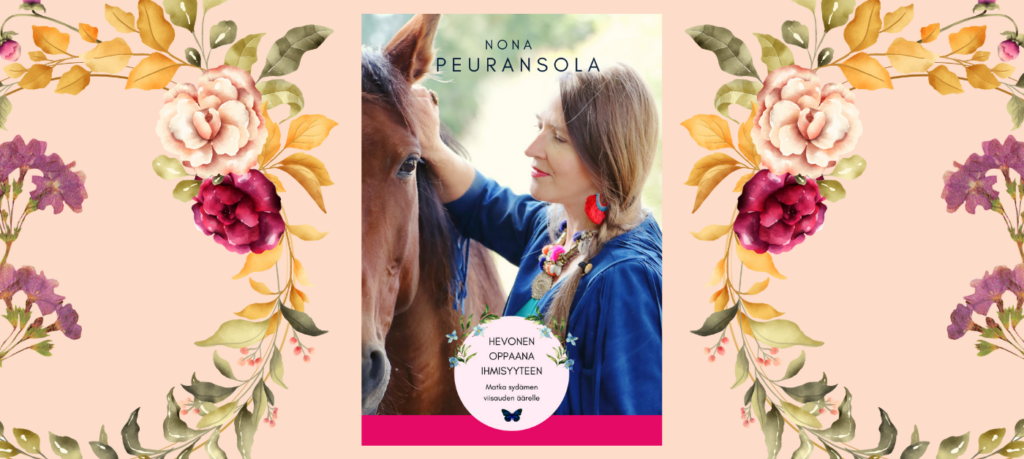 A map for the path of your heart
Nona Peuransola's book Horse as a Guide to Humanity - A Journey to the Wisdom of the Heart celebrated her birth on the 28th of August 2020. See author interview from here. You can order a book online bookstores such as About Adlibris, Booky.fi:from, About the Finnish Bookstore & Prismast, but the fastest way to get it From BoD's own shop. If you wish, you can also obtain the book as an e-book and borrow it from libraries. If no book can be found in your local library, you can ask them to order it in their selections. At the moment book is only available in finnish but the plan is to translate it in english!
The book is for you who are looking for your place in this world. You don't have to be a "horse woman" to read this book, but if you walk your path with your horse friend, the book offers keys to a deeper connection, understanding, and trust between you and your horse. Above all, the book has been created as a map for your own Heart Path. It includes messages from horses to us humans, small exercises, meditations, coloring aphorism-images, questions to reinforce self-knowledge, emotional skills, and intuition, and reflections that have been born when listening to the wisdom of animals and nature. The book also speaks about unfortunate taboo subject in the equine world, female violence and aggression. Book also addresses other themes that are essential to our growth as humans, such as shame, sensitivity, and vulnerability. You'll also get tips on how you care less about what others think of you and more about what calls your heart!
The book is for you who are interested in opening your heart to the views that are different from the mainstream, and for you who want to focus on creating your own unique path. It is for you who want to deepen your connection to your unique sensitivity, the voice of your heart, and open up to the infinite wisdom of animals and nature.
Hardcover, bound, 286 pages, white bookmark ribbon.

"I just read your incredibly wonderful book, and I just want to say thank you. The best book I've ever read! It aroused a lot of thoughts and clarified many things I have been thinking about. I can't wait to meet my own wise horse friends, because I read this on vacation. "
"My daughter took your book in her hands and said, mother, this book is Magic. I feel it !! My dear, conscious Horse girl "
"I received your book yesterday and got an incredible energy and heat flow from your inscription. Thank you very much! I'm actually speechless. We have had a rough time and in the last few weeks, months, something new has started to be born in me with great pain. After years or really deep emotional work, I experienced some kind of fall on my knees driven by feelings of shame and guilt and sadness, and now as I build new acceptance and love, your book came to me at such a right time. It would have been too early a month ago. I can't really explain this. I am extremely grateful. The relationship between fear and shame and pleasure and trust has been an energetic turbulence for some time now and continues to do so. I have started reading your book with a pen in hand, a pen for thoughts that arise. I take your book as a map and as an alarm clock, also as a mirror. You talk about surrendering. It is one of the most difficult tasks in life. Thanks for putting that into word too. I can't thank you enough. "
"Kuvaat sivulla 22 hevosavusteista toimintaa ja työtä parhaimmillaan, sen ideaa, ajatusta ja sydäntä niin hyvin, että haluaisin sanoa kaikille jotka ihmettelevät työtäni: "lukekaa Nonan kirjasta sivulta 22, sitä mä teen hevosten kanssa, semmoista se on!"
"Olen lukenut kirjasi ja se on aivan mahtava. Yksi parhaista pitkään aikaan. Sisältö ei ole kertakäyttöistä, tulen palaamaan usein joihinkin kappaleisiin tai tehtäviin. Pidin todella myös ajatustavoistasi ja miten tuot asioita esille hyvin selkeästi ilman vastakkainasettelua tai liikaa "mambojamboa" kuitenkin tuoden esiin erilaisuutta ja herkkyyttä vakavasti otettavina asioina. Osaat hienosti sanoittaa asioita ja aiheita, oma lamppu on syttynyt monta kertaa. Rakastan Athena ja Frida osioita <3 ihanaa että he ovat sinulla (teillä), Pure Love, kauniita kokemuksia. Lähetän heille mitä parhaimpia energioita ja ajatuksia. Ihanaa ja aitoa kunnioitusta luontoa, alkuperäiskansoja ja eläinkuntaa kohtaan. Erinomainen kirja myös oman sisäisen lapsen ja sydämen voiman vahvistamiseen. Kirja voisi hyvin olla osa "kansalaisopetusta"."